Gary Platt Manufacturing and Gitchi Gaming Bring Unsurpassed Casino and Hospitality Seating to NIGA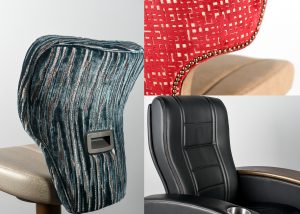 RENO, Nev. (April 18, 2022) – It's proven fact: Casino seating from Gary Platt Manufacturing increases coin-in and time on device.* Now Gary Platt and partner Gitchi Gaming are bringing unsurpassed casino seating to NIGA. Gary Platt and Gitchi Gaming will be in booth #416.
Gary Platt and Gitchi Gaming's NIGA booth will be filled with a blend of new and classic chair models, including the globally popular and patented Monaco and Tesla casino models and the advanced and supremely functional Sportsbook club model.
Also on display will be a wealth of seating solutions from Gary Platt's Sierra Nevada Hospitality division. Hospitality chairs are notoriously uncomfortable, so Gary Platt changed the industry by creating the Sierra Nevada Hospitality line, filled with 100s of models for every hospitality area: bar, banquet, convention, dining, office, wedding, and more.
Like Gary Platt's casino seating, every chair in the Sierra Nevada Hospitality collection is custom designed and hand-crafted to each customer's unique and exact specifications. The hospitality line is pillow-soft thanks to its exclusive Platt-foam.
For more information on Gary Platt's unsurpassed comfort, durability, and design visit Gary Platt in NIGA booth #416. Join Gary Platt online at garyplatt.com and visit Gitchi Gaming at www.gitchigaming.com.
*A live, in-casino test over several weeks compared slot performance with Gary Platt chairs and competitive products. Test results showed a 3% increase in time-on-device and an 11%increase in coin-in. Click to read more: Study Results
About Gary Platt Manufacturing
For more than 20 years, Gary Platt Manufacturing has been the world's leading provider of performance casino seating. Gary Platt produces premium seating for casinos on five continents and creates chairs for a wide range casino, office, and hospitality uses. The design team has more than 50 years of experience in providing products with unsurpassed comfort, durability, and design. For more information, visit Gary Platt at www.garyplatt.com.
About Gitchi Gaming
Gitchi Gaming, Inc. is a Native American owned and operated corporation supplying products and services to both Tribal and non-Native entities. Established in 1992, Gitchi Gaming is dedicated to providing the finest products available to the gaming community. At Gitchi Gaming, customer satisfaction comes first. Whatever you need, we deliver. Whether your needs are stock or custom, we specialize in quality and creative solutions for all areas of your facility. Installation services are also available.
# # #
Media Contact:
Paul Speirs-Hernandez, Steinbeck Communications
+1 (702) 413-4278, paul@steinbeckcommunications.com