Gary Platt Manufacturing Installs Kopa Stackable Bingo Chair at Two Arizona Charlie's Locations in Las Vegas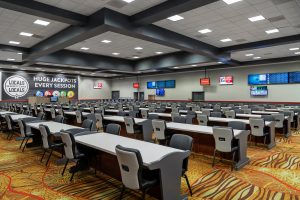 Arizona Charlie's Decatur, click to download high-res image
LAS VEGAS (April 5, 2022) – Bingo players at Arizona Charlie's Decatur and Arizona Charlie's Boulder can now relax in unsurpassed comfort while they line up their daubers, troll dolls, and enjoy the fun bingo action.
Gary Platt has installed its revolutionary Kopa stack chair model in the bingo halls at each location, marking the first time the company has brought its bingo chairs to Las Vegas. Gary Platt installed 250 chairs at each property.
Gary Platt's Kopa stack chair is a breakthrough in stack chair design. While traditional stack chairs are notoriously uncomfortable, Gary Platt's new Kopa stack chair incorporates the ergonomics of its legendary casino seating into a stack chair with base legs that are light, durable, and easily stacked.
"We recently refreshed our award-winning bingo rooms, and the new chairs take comfort to the next level," said Arizona Charlie's Vice President and General Manager, Jeremy Jenson. "Bingo is now better than ever at Arizona Charlie's."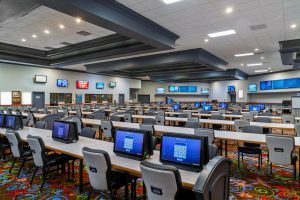 Arizona Charlie's Boulder, click to download high-res image
"Casino players love our chairs, and case studies definitively prove players stay and play longer in Gary Platt chairs. Now we are excited to bring that same unsurpassed comfort to Arizona Charlie's bingo players," said Gary Platt CEO Joe Esposito.
Previously, Gary Platt installed its popular GX2 and Lido casino seating models in the slot, bar, and table games areas at both properties. Find your perfect style at garyplatt.com.
About Gary Platt Manufacturing
For more than 20 years, Gary Platt Manufacturing has been the world's leading provider of performance casino seating. The design team has more than 50 years of experience in providing products with unsurpassed comfort and excellence. Gary Platt produces premium seating for casinos on five continents and creates chairs for slots, table games, poker, bar-top, bingo and hospitality. For more information, visit Gary Platt at www.garyplatt.com.
About Arizona Charlie's Hotel & Casino
Arizona Charlie's Hotel & Casino has two locations in the Las Vegas Valley: 740 S. Decatur Blvd. and 4575 Boulder Hwy. Both offer expansive bingo rooms with sessions every odd hour and complimentary self-parking. More information can be found on Facebook at www.facebook.com/AZCharliesVegas/, on Instagram at @arizonacharlieslasvegas and on Twitter at @AZCharliesLV. Arizona Charlie's Boulder offers 300 rooms and suites, including an RV park, as well as an outdoor pool and hot tub and laundry facilities. Restaurants include PT's Express, Dunkin' and Sourdough Café. More information is available on the website at www.arizonacharliesboulder.com and by calling (702) 951-9000. Arizona Charlie's Decatur offers 259 rooms and suites that come with an array of amenities. The casino has more than 800 slots, table games and a race and sportsbook. Restaurants include PT's Express, Dunkin' and Sourdough Café. More information is available on the website at www.arizonacharliesdecatur.com and by calling (702) 258-5200.
About Golden Entertainment, Inc.
Golden Entertainment owns and operates gaming properties across two divisions – casino operations and distributed gaming. Golden Entertainment operates approximately 15,700 slots, 120 table games and 6,200 hotel rooms. Golden Entertainment owns ten casino resorts – nine in Southern Nevada and one in Maryland. Through its distributed gaming business in Nevada and Montana, Golden Entertainment operates video gaming devices at approximately 1,000 locations and owns over 65 traditional taverns in Nevada. Golden Entertainment is also licensed in Illinois and Pennsylvania to operate video gaming terminals. For more information, visit www.goldenent.com.
# # #
Media contact:
Paul Speirs-Hernandez, Steinbeck Communications
+1 (702) 413-4278, paul@steinbeckcommunications.com