Gary Platt Wins Lifetime Achievement Award from Las Vegas Magazine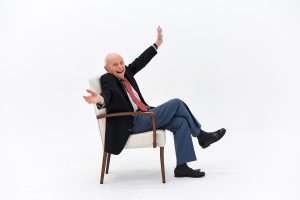 Founder's vision forever changed the gaming industry.
RENO, Nev. (January 19, 2022) – In 1959, Gary Platt walked into a Las Vegas casino and asked, "why is everyone standing?" That simple question led Platt to create the world's first casino chairs, sparking a global revolution. Now Platt has been honored with a Lifetime Achievement Award by Las Vegas Magazine.
Gary Platt said, "I am utterly thrilled and pleased to be considered and then selected for this award for the casino industry. I had ideas and problems mentioned to me when comfortable and durable casino seating was in its infancy, and with the help of Leonard Einhorn and Bob Yabroff at our factory, we found solutions. I was fortunate to be in the right place at the right time. Lucky me!"
"It's our privilege to recognize Gary Platt as a Lifetime Achievement honoree," said Ken Miller, editor of Las Vegas Magazine. "Las Vegas is a city that practically invented the perfect entertainment experience, and Gary's innovative ideas are a huge part of that evolution. We can't imagine a more deserving candidate for this special honor."
It all started with a simple sketch Platt drew on a yellow pad for a gaming supply executive—a 12-inch-by-12-inch seat with straight legs, carefully designed to fit with the narrow confines of the era's slot aisles. The results were instantaneous – players flocked to the games with chairs, and revenues increased.
In the time since, Gary Platt Manufacturing has hand-crafted more than a million chairs for casinos around the world, elevating time-on-device, and delivering unsurpassed comfort to players everywhere.
The impact has also grown. For example, a recent three-week, head-to-head study showed devices with Gary Platt chairs had a three percent increase in time on device and an 11 percent coin-in increase in coin-in vs. devices with chairs from another manufacturer.
"Gary's vision continues to inspire us all at Gary Platt Manufacturing. We keep asking 'why,' pursuing ever-higher levels of comfort, pushing ourselves to make the world's most comfortable chairs for our customers and their guests. It's an honor to continue his legacy," said Gary Platt Manufacturing CEO Joe Esposito.
Click here to visit Gary Platt's gallery of installations.
Gary Platt Manufacturing's new Sierra Nevada Hospitality collection brings its unsurpassed comfort to hospitality with seating solutions for banquet/convention, bars, dining, and office. Learn more at www.garyplatt.com/hospitality.
About Gary Platt Manufacturing
For more than 20 years, Gary Platt Manufacturing has been the world's leading provider of performance casino seating. The design team has more than 50 years of experience in providing products with unsurpassed comfort and excellence. Gary Platt produces premium seating for casinos on five continents and creates chairs for slots, table games, poker, bar-top, bingo and hospitality. For more information, visit Gary Platt at www.garyplatt.com.
# # #
Media contact:
Paul Speirs-Hernandez, Steinbeck Communications
+1 (702) 413-4278, paul@steinbeckcommunications.com