Gary Platt Manufacturing Further Expands Relationship with Yaamava' Resort & Casino at San Manuel
New High Limit Room, High Limit Bars, Restaurant, Bar All Equipped with Gary Platt Chairs
RENO, Nev. (January 7, 2022) – Yaamava' Resort & Casino at San Manuel has expanded, and so has its relationship with Gary Platt Manufacturing. In the last two years, Gary Platt supplied custom-designed seating for San Manuel's Casino expansion, Vault Gaming & Provisions high limit area, and now a wealth of hand-crafted seating solutions for the casino's newest high limit area, ultra-slots area, table games area, slot bars, and Hong Bao Kitchen restaurant.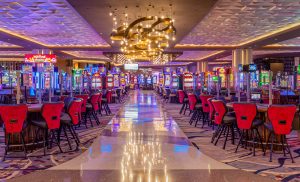 PHOTO GALLERY: Download high res images here.
The high limit area received Gary Platt's patented, top selling Monaco model, while the ultra-slots area is filled with Gary Platt's popular Lugano model. Table games players are now enjoying the comfort of Gary Platt's legendary Sonoma model, while the high limit bars received custom-designed San Remo models, with unique jeweled and brass nail heads. Diners at Hong Bao Kitchen relax in the comfort of Gary Platt's innovative Tesla model.
Guests at San Manuel casino relax in the unsurpassed comfort of Gary Platt chairs throughout the property, including the main casino and Rock & Brews restaurant.
"One of the core differences of Yaamava' Resort & Casino is the differentiation and variety of spaces we offer to our guests." said Peter Arceo, General Manager. "To make these one-of-a-kind experiences possible, we need partners who can provide the best product in the world. Gary Platt is a leader in design and comfort, and I look forward to our expanded partnership."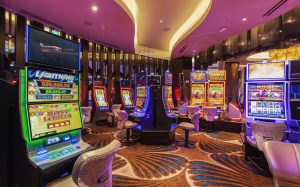 "We are thrilled to be a part of Yaamava' Resort & Casino at San Manuel's recent expansion and projects. Working with GM Peter Arceo and his entire team is always a pleasure. The new chairs were a fun and innovative design project that our team enjoyed working on from start to finish. We are proud to provide San Manuel with unsurpassed comfort and design that will last for years to come," said Gary Platt CEO Joe Esposito.
For more information, join Gary Platt online at garyplatt.com and on Facebook, LinkedIn, and Twitter.
About Gary Platt Manufacturing
For more than 20 years, Gary Platt Manufacturing has been the world's leading provider of performance casino seating. The design team has more than 50 years of experience in providing products with unsurpassed comfort and excellence. Gary Platt produces premium seating for casinos on five continents and creates chairs for slots, table games, poker, bar-top, and bingo. For more information, visit Gary Platt at www.garyplatt.com.
# # #
Contact:
Paul Speirs-Hernandez, Steinbeck Communications
+1 (702) 413-4278, paul@steinbeckcommunications.com