Gary Platt and Gitchi Gaming Replace Casino Seating at Diamond Jo Casino Dubuque
RENO, Nev. (January 3, 2022) – Players at Diamond Jo Casino in Dubuque, Iowa are now enjoying their favorite slot and table games in unsurpassed comfort. Gary Platt and Gitchi Gaming have replaced a competitive product with all new seating on all slot and all table games at Diamond Jo, more than 700 chairs total.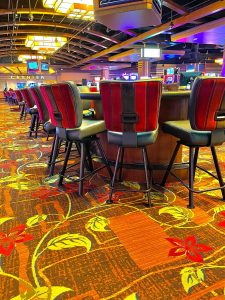 For the main slot floor, Diamond Jo chose Gary Platt/Gitchi Gaming's globally popular Lido Revo model, and for the high limit area, Diamond Jo chose the patented Monaco model. Roulette and blackjack players are enjoying the Lido Revo Mini model.
"Players love our chairs because they're so comfortable. And our customers love that their customers are very comfortable while they're sitting in a Gary Platt chair. Our unsurpassed comfort, quality, durability, and service are why casinos all over the world choose Gary Platt chairs over other brands," said Joshua Corrick, Gary Platt CCO.
Each model was hand-crafted in the USA to Diamond Jo's exact specifications, with design elements that were carefully selected to reflect the casino's individual brand.
Gary Platt and Gitchi Gaming provide seating of legendary comfort for the entire property – casino, office, and hospitality – in a wide variety of designs that are completely customizable to fit each property's unique brand. Click here to visit Gary Platt's gallery of installations.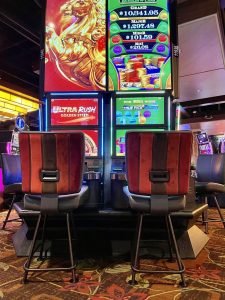 For more information, join Gary Platt online at garyplatt.com and on Facebook, Instagram, LinkedIn, and Twitter, and visit Gitchi Gaming at gitchigaming.com.
About Gary Platt Manufacturing
For more than 20 years, Gary Platt Manufacturing has been the world's leading provider of performance casino seating. The design team has more than 50 years of experience in providing products with unsurpassed comfort and excellence. Gary Platt produces premium seating for casinos on five continents and creates chairs for slots, table games, poker, bar-top, bingo and hospitality. For more information, visit Gary Platt at www.garyplatt.com.
# # #
Media contact:
Paul Speirs-Hernandez, Steinbeck Communications
+1 (702) 413-4278, paul@steinbeckcommunications.com