Gary Platt Manufacturing Supplies Hospitality Chairs to Johnny Mac's Sports Bar & Grill in Henderson, Nev.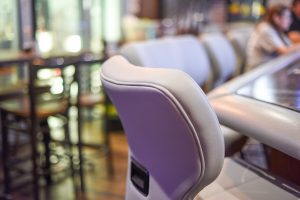 RENO, Nev. (December 8, 2021) – Since 1983, Henderson, Nev. locals have loved the luck of the Irish at Johnny Mac's Sports Bar & Grill, and now with new chairs from Gary Platt Manufacturing, guests have even more reason to stay and enjoy themselves longer and more often.
Gary Platt installed its legendary and patented Monaco in the bar and in the dining room. Gary Platt customized the chairs for Johnny Mac's with grey upholstery and a black frame that is reminiscent of the bold and sturdy coasts of Eire.
Johnny Mac's owner, John McGintyhas been a Gary Platt customer for more than 20 years. He said, "These are the best chairs I have ever sat in. I have been in restaurants all over the world, and the sleek, comfortable design of these stools are the best I have seen. If restaurants and bars want to pick up their business I suggest getting Gary Platt Barstools. They are very comfortable, durable, and hand-crafted with the highest quality materials on the market."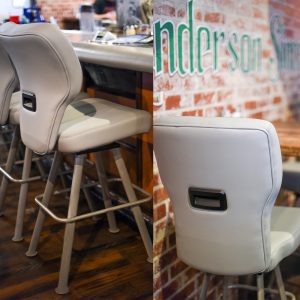 "Our chairs are unsurpassed for comfort and for durability, and the same can be said for our customer relationships. John McGinty has been a customer for more than 20 years. We've enjoyed many home cooked meals at Johnny Mac's, and we love that he is comfortable enough with our relationship to consult with us on his remodel, and to trust us with new product," said Joe Esposito, CEO for Gary Platt.
The installation is the latest for Gary Platt in Henderson, where the company is playing an integral role in the city's redesign and revival. Earlier, Gary Platt announced installations at the Rainbow Club and at Emerald Island.
For more information and to get inspired by an extensive photo gallery, visit garyplatt.com/hospitality. Join Gary Platt on Facebook, Instagram, LinkedIn, and Twitter.
About Gary Platt Manufacturing
For more than 20 years, Gary Platt Manufacturing has been the world's leading provider of performance casino seating. The design team has more than 50 years of experience in providing products with unsurpassed comfort and excellence. Gary Platt produces premium seating for casinos on five continents and creates chairs for slots, table games, poker, bar-top, bingo and hospitality. For more information, visit Gary Platt at www.garyplatt.com.
# # #
Media contact:
Paul Speirs-Hernandez, Steinbeck Communications
+1 (702) 413-4278, paul@steinbeckcommunications.com