Gary Platt Manufacturing Brings Unsurpassed Casino Seating to Coushatta Casino Resort
RENO, Nev. (December 13, 2021) – Louisiana's largest casino resort is getting even more comfortable. That's because Gary Platt Manufacturing has installed a wide range of new casino seating at Coushatta Casino Resort.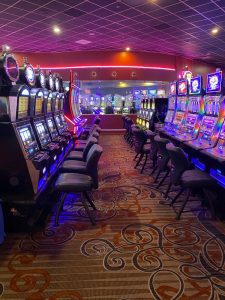 The installation is the first phase of a total casino seating replacement at Coushatta Casino Resort, a new client for Gary Platt.
Gary Platt has installed 600 slot chairs in its enormously popular Monaco style. The design was customized to fit Coushatta Casino Resort's award-winning brand, and the upholstery is Gary Platt's incredible new no-burn material, from the Healthy Play line by GMF Fabrics.
Gary Platt also installed a range of bar stools, high-back chairs and Sportsbook Club chairs in the casino's new sportsbook room.
Coushatta Casino Resort Slot Director Warren Davidson said, "We were thrilled to be able to get the Gary Platt Monaco chairs for our casino floor at such a reasonable price. When we can bring in the number one seating company in gaming with their most popular chair at a price that met our budget, it's a true win for us and our customers.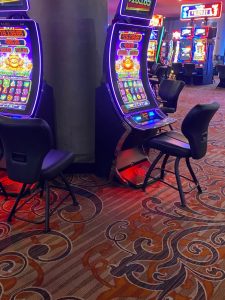 Gary Platt hand-crafts seating with legendary comfort for the entire property – casino, office, and hospitality – in a wide variety of designs that are completely customizable to fit each property's unique brand.  Click here to visit Gary Platt's gallery of installations.
For more information, join Gary Platt online at garyplatt.com and on Facebook, Instagram, LinkedIn, and Twitter.
About Gary Platt Manufacturing
For more than 20 years, Gary Platt Manufacturing has been the world's leading provider of performance casino seating. The design team has more than 50 years of experience in providing products with unsurpassed comfort and excellence. Gary Platt produces premium seating for casinos on five continents and creates chairs for slots, table games, poker, bar-top, bingo and hospitality. For more information, visit Gary Platt at www.garyplatt.com.
# # #
Media contact:
Paul Speirs-Hernandez, Steinbeck Communications
+1 (702) 413-4278, paul@steinbeckcommunications.com