End-of-Life Product Notice: Uncomfortable Hospitality Seating Replaced by New Sierra Nevada Hospitality Line by Gary Platt Manufacturing
New line on display in booth #2451 at BDNY
RENO, Nev. (November 4, 2021) – To the delight of guests everywhere, uncomfortable hospitality seating has finally received its long-overdue end-of-life notice. Gary Platt Manufacturing, known worldwide for its unsurpassed comfortable casino seating, is bringing that same comfort to hospitality seating, charting a new course for hospitality seating.
Gary Platt recently acquired Sierra Nevada Hospitality, and the new line of comfortable seating will be on display in booth #2451 at BDNY.
"For far too long, the hospitality seating industry has globally been focused on function and durability with insufficient attention paid to comfort. We are changing that starting today," said Eric Segal, president of Gary Platt's Sierra Nevada Hospitality division. "The innovative designers and artisans at Gary Platt are bringing comfort, function, and durability to hospitality seating. Anyone anywhere who has ever sat in a traditional conference chair for more than 10 minutes will agree – it's about time, and we are thrilled to lead the way forward."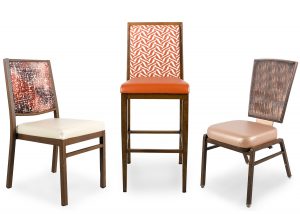 The heart of Gary Platt's comfort is Gary Platt's proprietary cold-cured foam. For decades, under the heavy use of casino seating, Gary Platt's foam has demonstrated its durability and sustained comfort. The foam is highly resilient and bounces back even after years of continual heavy use. Using a foam that does not break down, and therefore does not need to be replaced frequently, underscores Gary Platt's commitment to pure sustainability.
Gary Platt cold-cured foam meets TB 133 and 117 California Bureau of Home Furniture classifications, which places it in a higher fire protection classification than similar foams. Further, components and density of foam support self-extinguishing properties. The foam is manufactured using a freon-free off-gassing technique, which reduces waste and impact on the environment. More importantly, the proven decade-plus longevity of our exclusive foam translates to true sustainability.
For more information on Gary Platt's unsurpassed comfort, durability, and design, visit Gary Platt in booth #2451 at BDNY. Join Gary Platt online at garyplatt.com and on LinkedIn, Twitter, and Facebook.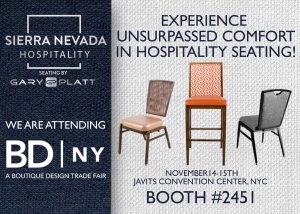 About Gary Platt Manufacturing
For more than 20 years, Gary Platt Manufacturing has been the world's leading provider of performance casino seating. Gary Platt produces premium seating for casinos on five continents and creates chairs for a wide range casino, office, and hospitality uses. The design team has more than 50 years of experience in providing products with unsurpassed comfort, durability, and design. For more information, visit Gary Platt at www.garyplatt.com.
# # #
Media Contact:
Paul Speirs-Hernandez, Steinbeck Communications
+1 (702) 413-4278, paul@steinbeckcommunications.com