Gary Platt Manufacturing Celebrates 1,000,000th Casino Chair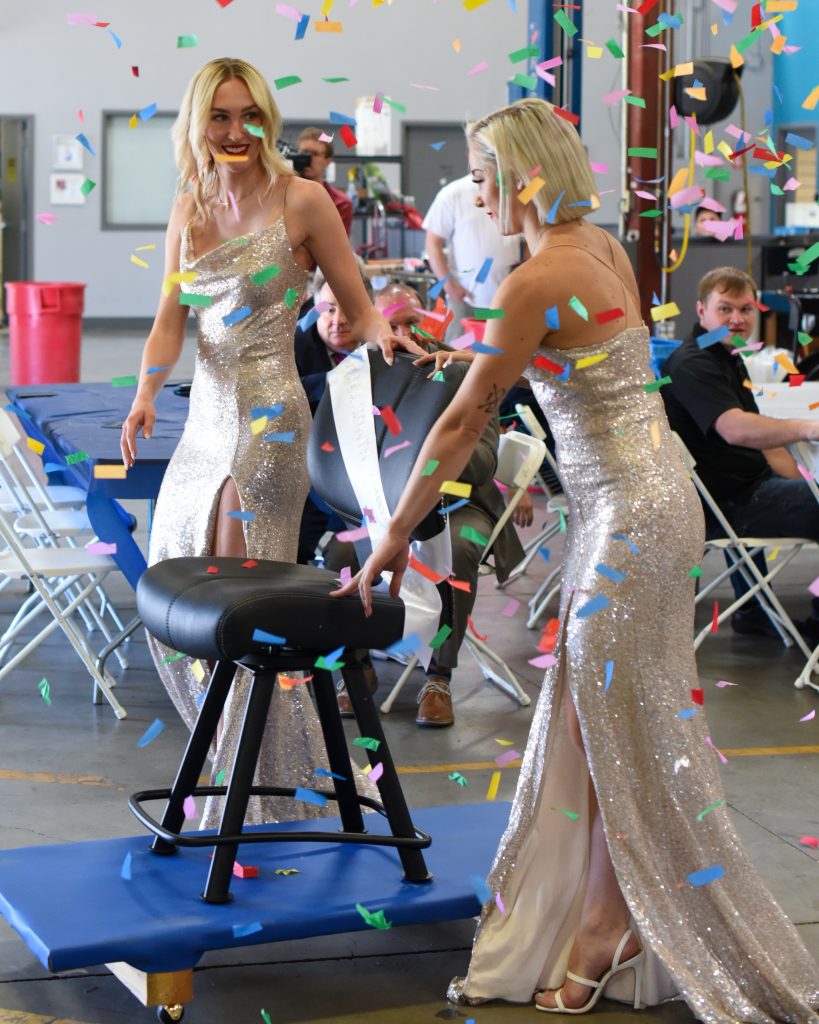 Reno Mayor issues proclamation creating "Gary Platt Day"
PHOTOS:
click to download
 high-res event images
VIDEO:
click to download
 broadcast-quality event videoRENO, Nev. (June 21, 2022) – Today, Gary Platt Manufacturing celebrated a milestone achievement for the gaming industry when the company produced its 1,000,000
th
 casino chair.
The company marked the occasion with a celebration of its employees at its manufacturing facility in Reno, Nev. More than 120 employees joined the party, along with Nevada Assemblywoman Natha Anderson and Reno Aces baseball mascot Archie. Company founder Gary Platt addressed the crowd via video. At age 96, Platt continues to play an active role in the company.
"At Gary Platt Manufacturing, we are immensely proud of the rich history, tradition, and consistency that has allowed us to produce 1,000,000 chairs right here in Reno, Nevada!  We look forward to the next million chairs in our ongoing mission to create the most comfortable, durable chairs in the gaming industry!" said Joe Esposito, Gary Platt CEO.
Gary Platt Manufacturing has been creating chairs in its Reno facility since 1999. The company got its start in 1959 when Platt walked into a Las Vegas casino to play blackjack and noticed everyone at the slots was standing. Some persuading and a couple of demo models later, Gary sparked a revolution by bringing chairs to casinos, and creating a global revolution that forever changed the gaming experience.
Today, it's impossible to imagine a casino floor without seating. Platt's vision continues to inspire the artisans at Gary Platt Manufacturing. The team pursues ever-higher levels of comfort, pushing themselves to make the world's most comfortable chairs for its customers and their guests.
Earlier this year, Platt was honored with a Lifetime Achievement Award by Las Vegas Magazine. Editor Ken Miller said, "Las Vegas is a city that practically invented the perfect entertainment experience, and Gary's innovative ideas are a huge part of that evolution. We can't imagine a more deserving candidate for this special honor."
In April, Gary Platt Manufacturing's new Aurora model was named "Best Casino Seating Product" in the recent Casino Awards. The top-selling Aurora was originally created as part of Gary Platt's Collection for Resorts World Las Vegas and has since become a hit with operators and players alike in casinos worldwide.
Get inspired by Gary Platt's installation gallery and join Gary Platt on LinkedIn, Twitter, Facebook, and Instagram.
About Gary Platt Manufacturing
For more than 20 years, Gary Platt Manufacturing has been the world's leading provider of performance casino seating. Gary Platt produces premium seating for casinos on five continents and creates chairs for a wide range casino, office, and hospitality uses. The design team has more than 50 years of experience in providing products with unsurpassed comfort, durability, and design. For more information, visit Gary Platt at www.garyplatt.com.
# # #
Media Contact:
Paul Speirs-Hernandez, Steinbeck Communications
+1 (702) 413-4278, paul@steinbeckcommunications.com