Gary Platt Chairs Give Players at Parx Casino a Reason to Sit Down and Cheer
RENO, Nev. (September 22, 2021) – Players at the stunning new sportsbook at Parx Casino will sit down and cheer thanks to the new Sportsbook Club chair by Gary Platt Manufacturing.
Gary Platt's Sportsbook Club model is every player's favorite chair and populates Parx Casino's entire sportsbook floor. Custom-designed to Parx Casino's exact specifications, the Sportsbook Club is a lounge-style chair built for maximum comfort. Delivering unsurpassed relaxation, the chair features a reclining, oversized back, oversized arms, a USB charger, a cupholder, and Gary Platt's signature foam to deliver unsurpassed comfort. Hand-stitched upholstery is customizable to fit any property's personal brand.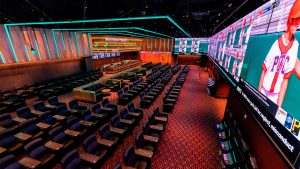 Click here to download hi-res photos
"When initially working with Parx Casino, we knew we wanted to provide them with the ultimate sportsbook seating with unsurpassed comfort and design. After narrowing down the styles we decided that our High Back Sportsbook Club with stand-alone tables was the best fit for this sportsbook area. We love the results of this project, and it was a pleasure to work with the team at Parx. We are confident that our sportsbook seating will provide comfort and quality for every customer for years to come," said Richard Friedman, Gary Platt's East Coast Sales Representative.
As sports betting continues to spread across the U.S., Gary Platt is leading the way with an enviable portfolio of products to suit every bettor's taste and every operator's needs. In addition to the Sportsbook Club, other chairs in the sportsbook collection include the GX2, Lido, Lugano, Monaco, and Sonoma. Each chair is handcrafted, and the versatility of customizable options allows any style chair to fit easily into each casino's aesthetic.
"Whether it's a football game, baseball game, or a day of races, sports bettors spend a lot of time sitting. Parx Casino has created an incredible sportsbook with more than a dozen screens for guests to watch. Combined with our exclusive Sportsbook Club chair, guests can stay and enjoy themselves all day in comfort that will make them want to stay longer and return again in the future," Gary Platt CCO Joshua Corrick said.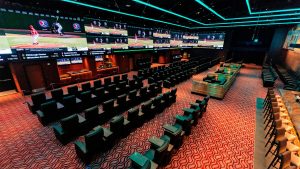 For more information, join Gary Platt online at garyplatt.com and on Facebook, LinkedIn, and Twitter.
About Gary Platt Manufacturing
For more than 20 years, Gary Platt Manufacturing has been the world's leading provider of performance casino seating. The design team has more than 50 years of experience in providing products with unsurpassed comfort and excellence. Gary Platt produces premium seating for casinos on five continents and creates chairs for slots, table games, poker, bar-top, sportsbook and bingo. For more information, visit Gary Platt at www.garyplatt.com.
# # #
Contact:
Paul Speirs-Hernandez, Steinbeck Communications
+1 (702) 413-4278, paul@steinbeckcommunications.com