Gary Platt Manufacturing Supplies Unique Steampunk-Style Chairs for San Manuel Casino's New High Limit Gaming Area
The all-new Vault Gaming & Provisions Debuted Unique and Custom Decor
RENO, Nev. (July 10, 2019) – Gary Platt Manufacturing has supplied custom steampunk-style chairs for San Manuel Casino's new Vault Gaming & Provisions, a sophisticated and innovative high limit gaming area.
The Vault Gaming & Provisions provides a one-of-a-kind environment that transports guests to another era featuring elements of steampunk design and décor. The space combines luxury and intrigue while adding to San Manuel Casino's best-in-class high-limit gaming experience.
PHOTOS: Click to download high res images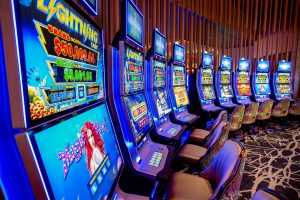 Photo credit: San Manuel Casino
Using the inspiration of the Vault's 19th-century industrial theme, Gary Platt created the Savannah, a one-of-a-kind custom chair for this unrivaled environment. Gary Platt's Savannah features a custom-upholstered back and hand-stitched channel front. The chair's sides are a flowing river of waves that cascade from the top of the chair down to the perfectly engineered seat filled with Gary Platt's signature foam for unsurpassed comfort. The base is constructed with customized gears and wrought iron-style legs, perfectly complimenting the Vault Gaming & Provisions' décor.
"With the Vault Gaming & Provisions we aimed to create a luxurious, high end gaming experience unlike any other", said Peter Arceo, General Manager of San Manuel Casino. "The attention to detail was very important to the look and feel of this space and the Gary Platt team immediately understood our vision. We, along with our guests, are thrilled with the custom chairs they have created for us."
"Every chair we make is hand-crafted, tailored specifically to each client's individual needs. With this particular design, we worked extremely closely with San Manuel and their design teams to create a chair that was as personal and unique as the Vault Gaming & Provisions room itself. It was a very exciting project, and we were thrilled to be a part of it," said Gary Platt Design Engineer Ed Abadie.
For more information, join Gary Platt online at garyplatt.com and on Facebook, LinkedIn, and Twitter.
About Gary Platt Manufacturing
For more than 20 years, Gary Platt Manufacturing has been the world's leading provider of performance casino seating. The design team has more than 50 years of experience in providing products with unsurpassed comfort and excellence. Gary Platt produces premium seating for casinos on five continents and creates chairs for slots, table games, poker, bar-top, and bingo. For more information, visit Gary Platt at www.garyplatt.com.
About San Manuel Casino
San Manuel Casino is Southern California's one-stop destination for entertainment and fun, located just 60 minutes from downtown Los Angeles and a short drive from LA-Ontario International Airport. Millions of guests each year enjoy the most slots on the west coast, poker and Vegas-style blackjack, high-limit gaming, incredible entertainment, sumptuous dining and a generous player's reward program. Since 1986, players have received over $2 billion in cash, prizes and giveaways, making any visit to San Manuel an exciting and memorable experience. For more information on San Manuel Casino, visit www.SanManuel.com and follow us on Twitter, Instagram and Facebook.
# # #
Contact:
Paul Speirs-Hernandez, Steinbeck Communications
+1 (702) 413-4278, paul@steinbeckcommunications.com